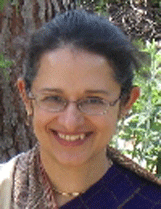 Education :
Ph.D. (Economics), Bombay University, M.Phil. Delhi School of Economics
Office Telephone:
+91-22-28416524
Email id:
This e-mail address is being protected from spambots. You need JavaScript enabled to view it
Research Interests:
Open economy macroeconomics, international finance, financial markets and regulation, institutions and development.
Book: Macroeconomics and Markets in India: Good luck or good policy? Ashima Goyal (ed). Routledge- UK, 2012.
'Regulations and price discovery: oil spot and futures markets' (with Shruti Tripathi). International Review of Applied Financial Issues and Economics.Forthcoming
'Propagation Mechanisms in Inflation: Governance as Key', India Development Report 2012, chapter 3 in S. Mahendra Dev (ed.), New Delhi: IGIDR and Oxford University Press, pp. 32-46, 2012.
'The Future of Financial Liberalization in South Asia', Asia-Pacific Development Journal, Vol. 19(1), pp. 63-96. June, 2012.
'The Indian Exchange Rate and Central Bank Action: An EGARCH Analysis' (with Sanchit Arora ), Journal of Asian Economics. 23(1), February, 2012.
'New Keynesian Aggregate Supply in the Tropics: Food Prices, Wages and Inflation' (with Shruti Tripathi), International Journal of Monetary Economics and Finance. Vol 4(4), pp. 330-354, 2011.
'A General Equilibrium Open Economy Model for Emerging Markets: Monetary Policy with a Dualistic Labor Market', Economic Modelling, Vol. 17, No. 2, 112-132, April, 2011.
'Inflationary Pressures in South Asia', Asia-Pacific Development Journal, 17(2), 2011.
'Exchange Rate Regimes and Macroeconomic Performance in South Asia'. Routledge Handbook on South Asian Economies, (ed.) Raghbendra Jha, 2011.
'Sustainable Debt and Deficits in Emerging Markets', International Journal of Trade and Global Markets, 4(2), 2011.
'Financial Crises: Reducing Procyclicality', Macroeconomics and Finance in Emerging Market Economies, Vol. 2(1), pp. 213-223, March 2009.
'Hedging' entry in Princeton Encyclopedia of the World Economy, Ramkishen S. Rajan, Kenneth A. Reinert (eds.), Princeton, NJ: Princeton University Press, 2009.
'Distant Labour Supply, Skills and Induced Technical Change', Information Analysis and Policy, Vol. 19(2), pp. 133-150, June 2007.
'Exchange Rate Regimes: Middling Through' Global Economic Review, Vol. 35(2), pp. 153-176, June 2006.
'Corporate Social Responsibility as a Signaling Device for FDI', International Journal of the Economics of Business, Vol. 13(1), pp. 145-163, February, 2006.
'Asian Reserves and the Dollar: Is Gradual Adjustment Possible?' Global Economy Journal, Vol. 5: No. 3, Article 3, 2005.
'Real and Financial Sector Interaction under Liberalisation in an Open Developing Economy', (with Shridhar Dash), Meteroeconomica, 51(3), pp. 257-283, 2000.
'Sticky Relative Prices, Dynamics and the Closure Debate', Journal of Post Keynesian Economics, Vol. 190(2), 1996-97.
'Growth Dynamics in a General Equilibrium Macroeconomic Model for India', Journal of Policy Modeling, 16(3), 1994.
'Sustaining Growth: Interests versus institutions' Mimeo, 2012
'Relative Prices, the Price Level and Inflation: Effects of Asymmetric and Sticky Adjustment' (with Shruti Tripathi). WP-2011-026
'Banks, Policy and Risks'. ICRIER Policy Series, No. 12, January 2012.

 

Current Research: Monetary policy and markets, fiscal issues, financial stability, wages and labour markets, inflation, growth and governance, pro-growth incentive structures.

 

 
Editing 'Handbook of the Dynamic Indian Economy'
Editor Money and Finance in Emerging Market Economies (Routledge, Taylor & Francis Group, see www.informaworld.com/mfeme) since 2007
'Asian Clearing Union: Current Status and the Way Forward'. ADB Project Report, 2011.
Study on "History of Monetary Policy in India Since Independence" for first Professor P.B. Brahmananda Memorial Research Grant Award for the year 2010-11.
'Financial Regulation and the G 20: Options for India' for ICRIER-DEA Ministry of Finance Project on G-20. 2011.
Current Optional Course:

"Topics in International Economics and Finance". Past courses taught: Advanced macroeconomics, and Development Theory and Policy

 

Ph.D students

Shruti Tripathi: Dynamic effects of oil prices, (committee member Subrata Sarkar)
Sanchit Arora: Monetary and fiscal policy: Interaction and Coordination
Jugnu Ansari: Monetary Policy Transmission and Interest Rate Pass-through
Akash Kumar Baikar: Financial Intermediaries and Macroeconomics
Vaishnavi: Essays on Capital Flows in India
Anusha: Analysis of Business Cycles (Committee Member)
Sandhya Garg: Essays in Indian Fiscal Federalism