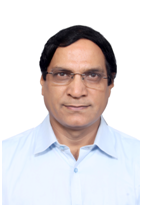 Education :
Ph.D. (Environmental Engineering), Indian Institute of Technology Bombay, 1992; Post -doctoral Research at World Bank, USA, 1994-95; Post-doctoral Research at NIES, Ministry of Environment, Japan, 1995-97.
Office Telephone:
+91-22-28416531
Email id:
This e-mail address is being protected from spambots. You need JavaScript enabled to view it
Research Interests:
Technological, Socio-economic and Policy Aspects of Energy, Environment and Sustainable Development Issues.
Click here for personal homepage
"Environmental Challenges of Development Strategies in India" in India Development Report (Edited by D.M. Nachane), Oxford University Press, 2011 (forthcoming)
Policy Report on "Sustainability Assessment of Biomass Energy Utilization in East Asia" published by Economic Research Institute for ASEAN and East Asia (ERIA), Jakarta, Indonesia, 2010.
Guest Column paper on "Importance of Source Apportionment Modeling in Air Pollution Abatement Policy" Clean Technologies and Environmental Policy, Online Publication of Springer, December 2009.
Maharashtra State Development Report, A Major Policy Document on Development issues in Maharashtra, prepared for the Planning Commission, Government of India and Published by Oxford University Press, New Delhi, 2007.
State of Environment Report- Maharashtra, A Major Policy Document on Energy and Environmental issues in Maharashtra, prepared for the MoEF, Govt. of India, MPCB and Govt. of Maharshtra, 2007.
Wastepaper In Mumbai (India): An Approach for Abridged Life Cycle Assessment, The International Journal of Life Cycle Assessment, Int. J. LCA, 5(1) 2A, 12-18, 2000.
Gaps In Environmental Policy: A Focus on General and Air Pollution Problems, Environmental Policy and Law, Vol. 28, No.2, 90-96, 1998.
Environmental and Economic Policy Analysis of Waste Paper Trade and Recycling in India, Resources, Conservation and Recycling, Vol. 21 No. 1, 55-70, 1997.
Development Of Climate Change Impact Model For India (Agriculture and Water Sectors), submitted to the National Institute for Environmental Studies, Japan Environment Agency, Japan, December, 1996.
Environmental Regulatory Measures and their Economic Impact on Indian Leather Industry. Natural Resources Forum- A United Nations' Journal Vol.19, No.2, 153-160, 1995.
Trade and Environment Linkages: A Case Study of India, for UNCTAD, April, 1995.
Chemical Mass Balance Model for Source Apportionment of Aerosols. Environmental Monitoring and Assessment, Vol.29,No.1, 75-88, 1994.
Natural Resource Accounting: A Framework For India, For Ministry of Environment, Govt. Of India And UNDP , Nov., 1993.
Publishing and Editing of a new international journal, "International Journal for Sustainable Innovations (IJSI)," with a responsibility of its Chief Editor and Managing Editor.
Organizing an international biennial event "International Symposium for a Sustainable Future (ISSF)," with a responsibility of the Chairman of its organizing committee and Editor of its proceedings.
Independently Teaching following courses to M.Phil./Ph.D. and M.Sc. students:
"Tools for Sustainability Assessment"
"Socio-economic issues in Energy and Environment"
Jointly taught / teaching a course to M.Phil./Ph.D. and M.Sc. students: "Energy and Environment"