CoRe – 2023
SIXTH IGIDR PHD. COLLOQUIUM
October 31 – November 03, 2023

CoRe 2023 is here! The Indira Gandhi Institute of Development Research (IGIDR) invites applications from PhD. scholars for participating in its Sixth Conversations on Research (CoRe ): IGIDR PhD. Colloquium, 2023. The Colloquium will be held at the Institute's Campus in Mumbai. We look forward to your enthusiastic participation to make CoRe 2023 vibrant and exciting. The Colloquium is being organized as part of the Institute's overall mandate to foster excellence in research by stimulating interactions among young researchers across the country.
CoRe aims to provide doctoral students of Economics, Energy & Environment, and Development Studies:
(a) a platform to present their on-going research and gain valuable feedback on their work
(b) an opportunity to meet doctoral students from other parts of the country
(c) a forum to discuss emerging issues that concern both theoretical and empirical researchers
(d) guidance from CoRe Alumni on increasing publication success and how to address challenges faced during PhD
(e) guidance from IGIDR Alumni on post PhD. career options
Date and Venue:
October 31 – November 03, 2023. Offline at Institute's Campus, Indira Gandhi Institute of Development Research, Gen A. K. Vaidya Marg, Goregaon (East), Mumbai 400065, INDIA.
Format:
a) Full Paper Sessions: A total of 16 PhD. scholars who are in the advanced stage of their doctoral work will be invited to present a paper from their thesis. This will be followed by a discussion led by the chair/discussant. Two slots are earmarked for candidates who made poster presentations in CoRe 2022 subject to their meeting acceptable quality standards.
b) Poster Presentation Sessions: A total of 16 PhD. scholars who are in the initial stages of their PhD. will be invited to present an overview of their thesis in poster presentations. The three top posters will be awarded prizes which include a CoRe citation and book awards.
c) Panel Discussions: There will be three Panel Discussions and one Workshop: (i) CoRe Pre Colloquium Interaction with CoRe Alumni (an opportunity to learn from the experiences of the last five Core Alumni), (ii) CoRe Data and Diagnostics (a faculty-students corner to resolve thesis related questions and queries), (iii) CoRe Life After PhD. (to get guidance from IGIDR Alumni on Post PhD. career options, and (iv) CoRe Writing Corner (an academic workshop to introduce students to good writing skills).
Financial Support:
3rd AC train fare by the shortest route(Limited to maximum of Rs 2500/- one way), free accommodation on twin sharing basis from October 30 to November 04, 2023 and full boarding.
Application Procedure:
All PhD. Scholars registered with a university are eligible to apply. Applicants need to register on the IGIDR website http://www.igidr.ac.in/CoRe following which they have to upload (1) latest CV and (2) a completed paper to be considered for the Full Paper Sessions, or an overview of the thesis to be considered for Poster Sessions. Selected candidates may be required to send a scanned copy of their bona-fide certificate.
[Applicants need to have Gmail account to upload the files]
Click Here to Register for the CoRe 2023
Deadlines:
The deadline for receiving applications is September 15, 2023. Selected candidates will be informed by October 1, 2023.
CoRe - 2023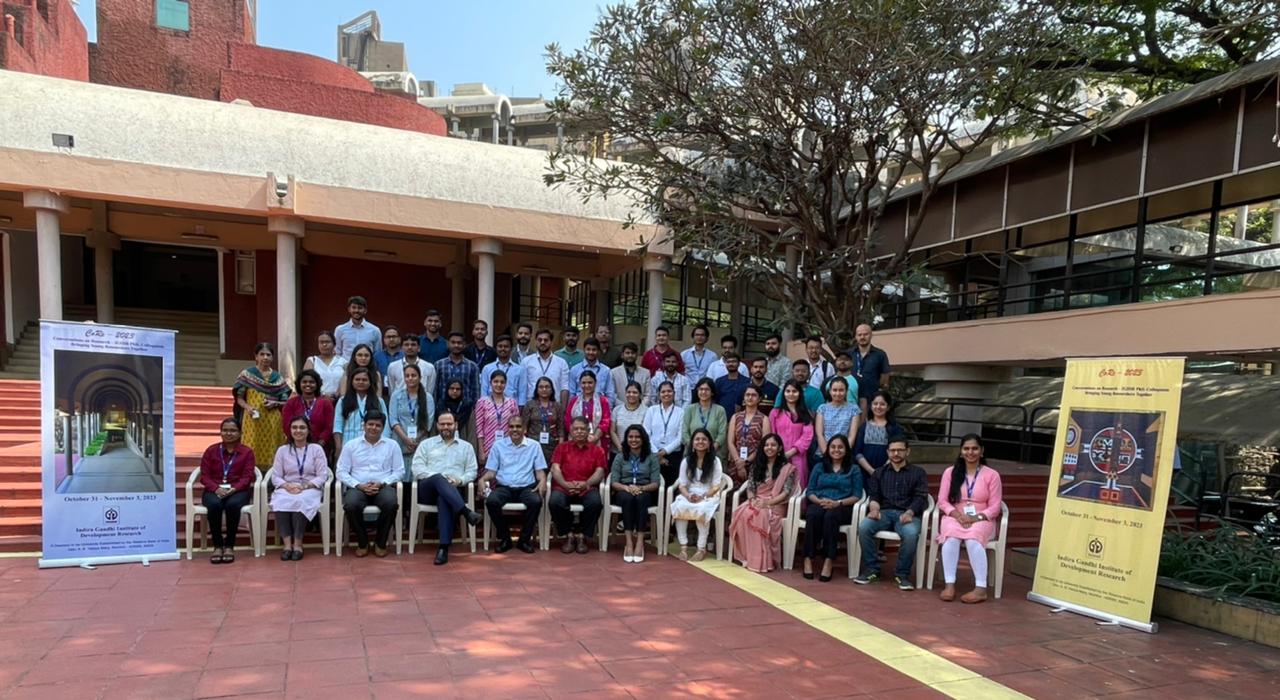 ---
CoRe - 2023 Valedictory Photos
---
CoRe - 2023 Life After PhD
---
CoRe - 2023 The GROUP and SIGNATURE Photos
---
CoRe - 2023 Candid Camera
---
CoRe - 2023 Poster Presentation Sessions
---
| S. No | Name | Affiliation | Year |
| --- | --- | --- | --- |
| 1 | Mr. Piyush Pandey | Department of Financial Studies, University of Delhi | 2016 |
| 2 | Ms. Vishruti Gupta | Department of Economics, Delhi School of Economics, University of Delhi | 2016 |
| 3 | Ms. Sargam Gupta | Economics and Planning Unit, Indian Statistical Institute, Delhi | 2016 |
| 4 | Ms. Aditi Singhal | Department of Economics, Delhi School of Economics, University of Delhi | 2016 |
| 5 | Mr. Digvijay Singh Negi | Economics and Planning Unit, Indian Statistical Institute, Delhi | 2016 |
| 6 | Mr. Sutirtha Bandyopadhyay | Economics and Planning Unit, Indian Statistical Institute, Delhi | 2016 |
| 7 | Ms. Krishna Malakar | Indian Institute of Technology, Bombay | 2016 |
| 8 | Ms. Surbhi Kesar | Ph.D. Program in Economics, South Asian University, Delhi | 2016 |
| 9 | Mr. Chandan Jain | Shiv Nadar University, Greater Noida, U.P. | 2016 |
| 10 | Ms. Krishnapriya P.P. | Delhi School of Economics, University of Delhi | 2016 |
| 11 | Ms. Anjana Thampi | CESP, Jawaharlal Nehru University, Delhi | 2016 |
| 12 | Ms. Jhuma Mukhopadhyay | Department of Business Management, University of Calcutta | 2016 |
| 13 | Ms. Bharti Nandwani | Shiv Nadar University, Gr. Noida, U.P. | 2016 |
| 15 | Ms. Urvashi Gill Dhingra | Symbiosis International University, Pune | 2016 |
| 16 | Mr. Sushrut Risbud | Fellow Programme of Indian Institute of Management, Calcutta | 2016 |
| 17 | Ms. Nitya Saxena | Indian Institute of Management, Indore | 2016 |
| 18 | Ms. Indra Jakhar | Kurukshetra University | 2016 |
| 19 | Mr. Usha Jai Mog | Economics Department, Tripura University | 2016 |
| 20 | Mr. Manas Ranjan Sahoo | Dept. of Anthropology, Utkal University, Bhubaneswar | 2016 |
| 21 | Ms. Saakshi Jha | Dept. of Humanities & Social Sciences, Indian Institute of Technology, Kanpur | 2016 |
| 22 | Ms. Jasveen Kaur | Fellow Programme of Indian Institute of Management, Calcutta | 2016 |
| 23 | Ms. Lakpa Dome Sherpa | Department of Economics, Sikkim University, Gangtok | 2016 |
| 24 | Ms. Neha Atri | Department of Economics, Kumaun Univeristy, Nainital | 2016 |
| 25 | Ms. Shweta Grover | Indian Institute of Management, Indore | 2016 |
| 26 | Mr. Moinak Maiti | Dept. of Banking Technology, School of Management, Pondicherry University | 2016 |
| 1 | Bhavesh Garg | IIT, Hyderabad | 2017 |
| 2 | Gaurav Dhamija | Shiv Nadar University, Delhi | 2017 |
| 3 | Harshita | Department of Management Studies, IIT, Delhi | 2017 |
| 4 | Kalpana Tokas | Fellow Programme in Management, IIM, Bangalore. | 2017 |
| 5 | Moinak Maiti (CoRe 2016) | Pondicherry University, Pondicherry | 2017 |
| 6 | Priyanka Arora | Department of Economics, Delhi School of Economics, Delhi | 2017 |
| 7 | R. Ahalya | Department of Humanities and Social Sciences, IIT, Delhi | 2017 |
| 8 | Saakshi Jha (CoRe 2016) | Department of Economic Sciences, IIT, Kanpur | 2017 |
| 9 | Swati Saini | Centre for International Trade and Development, JNU, Delhi | 2017 |
| 10 | Bhaskar Jyoti Neog | Dept. of HSS, IIT, Kharagpur | 2017 |
| 11 | George Varghese | Institute for Financial Management and Research, Chennai | 2017 |
| 12 | Kartik Yadav | Fellow Programme in Management, IIM, Bangalore | 2017 |
| 13 | Khanna Rupika | Business Environment (Economics) Department, IIM, Lucknow | 2017 |
| 14 | Subhankar Mukherjee | Fellow Programme, Economics Group, IIM, Kolkata | 2017 |
| 15 | Sudip Das | University of Petroleum and Energy Studies, Dehradun | 2017 |
| 16 | Varun Jindal | Fellow Programme in Management, IIM, Kolkata | 2017 |
| 17 | Yashobanta Parida | Economics at Centre for International Trade and Development, JNU, Delhi | 2017 |
| 18 | Krishna Sharma | Faculty of Economics, South Asian University, New Delhi | 2017 |
| 19 | Muhammed Najeeb | IIT, Kharagpur | 2017 |
| 20 | Prerorna Baruah | Dept. (HSS), IIT, Guwahati | 2017 |
| 21 | Rahul Roy | Dept. of Commerce, Pondicherry University | 2017 |
| 22 | Mayank Garg | AcSIR-CSIO, Chandigarh | 2017 |
| 23 | Poloumi Bhattarcharya | Jadavpur University, Kolkata | 2017 |
| 24 | Vivek Vyas | Department of Management Studies, IIT, Roorkee | 2017 |
| 25 | Mohd. Afzal | Department of Economics, Aligarh Muslim University, Aligarh | 2017 |
| 1 | Samudra Sen | Fellow Programme in Management, IIM, Ahmedabad | 2018 |
| 2 | Harshal Rajan Mulay | Fellow Programme in Management, IIM, Calcutta | 2018 |
| 3 | Muhammed Najeeb | Department of Humanities and Social Sciences, IIT, Kharagpur | 2018 |
| 4 | Suvajit Banerjee | Department of Economics and Politics, Visva Bharati University, West Bengal | 2018 |
| 5 | Cledwyn Fernandez | Xavier School of Management, Jamshedpur | 2018 |
| 6 | Radeef Chundakkadan | Department of Humanities and Social Sciences, IIT, Madras | 2018 |
| 7 | Gourab Chakraborty | Institute for Financial Management and Research, Chennai | 2018 |
| 8 | Surendra Kumar Naik | Centre for Human Resource Development, Institute for Social and Economic Change | 2018 |
| 9 | Shweta Grover | Fellow Programme in Management, IIM, Indore | 2018 |
| 10 | Anushree Saha | Indian Statistical Institute, Delhi | 2018 |
| 11 | Agamoni Majumder | Centre for Economic Studies and Policy, Institute for Social and Economic Change, Bengaluru | 2018 |
| 12 | Aishwarya Thomas | Institute for Financial Management and Research, Chennai | 2018 |
| 13 | Archana Dang | Department of Economics, Delhi School of Economics, Delhi | 2018 |
| 14 | Jyoti Rao | University of Melbourne, Australia | 2018 |
| 15 | Garima Agarwal | Department of Economics, Delhi School of Economics, Delhi | 2018 |
| 16 | Mrinalini Jha | Department of Economics, Delhi School of Economics, Delhi | 2018 |
| 17 | Shweta Jain | Shiv Nadar University, Greater Noida | 2018 |
| 18 | Lalita Rani Pradhan | Department of Analytical and Applied Economics, Utkal University, Bhubaneshwar | 2018 |
| 19 | Divya Jain | TERI School of Advanced Studies, Delhi | 2018 |
| 20 | Gomathy V (Mumbai participant) | Central Institute of Fisheries Education, Mumbai | 2018 |
| 21 | Sakshi Saini | Department of Financial Studies, University of Delhi, Delhi | 2018 |
| 22 | Paramjeet Chawla | School of Development Studies, Tata Institute of Social Sciences, Mumbai | 2018 |
| 23 | Rupel Nargunam | B.S. Abdur Rahman Crescent Institute of Science and Technology, Chennai | 2018 |
| 24 | Sunit Arora | Jawaharlal Nehru University, Delhi | 2018 |
| 1 | Sharon Christina Tensingh | Indian Institute of Technology, Madras | 2019 |
| 2 | Megha Jain | Faculty of Management Studies, University of Delhi | 2019 |
| 3 | Sanyyam Khurana | Delhi School of Economics, University of Delhi | 2019 |
| 4 | Annmary Jose | Institute for Financial Management and Research, Chennai | 2019 |
| 5 | Ketan Reddy | Indian Institute of Technology, Madras | 2019 |
| 6 | Pallabi Das | Indian Institute of Technology, Kharagpur | 2019 |
| 7 | Rakesh Padhan | Indian Institute of Technology, Hyderabad | 2019 |
| 8 | Vijayamba R | Indian Statistical Institute, Bangalore | 2019 |
| 9 | Anurag Anand | Centre for Development Studies, Kerala | 2019 |
| 10 | Suman Das | Jadavpur University, Kolkata | 2019 |
| 11 | Jaya Jumrani | Department of Economics, Delhi School of Economics, University of Delhi | 2019 |
| 12 | Kewal Singh | Indian Institute of Technology, Kanpur | 2019 |
| 13 | Raghvi Garg | Ashoka University, Haryana | 2019 |
| 14 | Aswathy Rachel Varughese | Institute for Social and Economic Change, Bangalore | 2019 |
| 15 | Zeeshan | Birla Institute of Technology and Science, Pilani Campus | 2019 |
| 16 | Michael Dioha | TERI School of Advanced Studies, New Delhi | 2019 |
| 17 | Pallabi Chakraborty | Indian Institute of Technology, Guwahati | 2019 |
| 18 | Pranati Das | North Eastern Hill University, Shillong | 2019 |
| 19 | Shubhra Mishra Deshpande | Symbiosis International University, Pune | 2019 |
| 20 | Jai Kamal | Indian Institute of Management, Lucknow | 2019 |
| 21 | Varsha Gupta | Jawaharlal Nehru University, New Delhi | 2019 |
| 22 | Muhammed Ashiq V | Indian Institute of Technology, Kharagpur | 2019 |
| 23 | Karen Fernandes | Goa University, Goa | 2019 |
| 24 | Anuradha Gogoi | Cotton University, Guwahati | 2019 |
| 25 | Sayoree Gooptu | Jadavpur University, Kolkata | 2019 |
| 26 | Alok Kumar Yadav | National Institute of Industrial Engineering, Mumbai | 2019 |
| 1 | Arnab Biswas | Indian Institute of Management, Bengaluru | 2022 |
| 2 | Atrayee Choudhury | Indian Institute of Technology, Kanpur | 2022 |
| 3 | Darpajit Sengupta | Jadavpur University, Kolkata | 2022 |
| 4 | Dhananjay Kumar Rai | Indian Institute of Technology, Roorkee | 2022 |
| 5 | Indu Sukumar | Birla Institute of Technology and Science, Pilani, Hyderabad Campus | 2022 |
| 6 | Kaibalyapati Mishra | Institute for Social and Economic Change, Bangalore | 2022 |
| 7 | Krishna Priya Choragudi | Indian Institute of Technology, Delhi | 2022 |
| 8 | Md Sahidul Islam | Institute of Rural Management, Anand | 2022 |
| 9 | Namita Sharma | Guwahati University, Assam | 2022 |
| 10 | Niharika Mohapatra | Utkal University, Bhubaneswar | 2022 |
| 11 | Nivaj Gogoi | Tezpur University, Assam | 2022 |
| 12 | Pallabi Chakraborty | Indian Institute of Technology, Guwahati | 2022 |
| 13 | Prabin Chauhan Chhetri | Sikkim University, Gangtok | 2022 |
| 14 | Pranati Das | North-Eastern Hill University, Shillong | 2022 |
| 15 | Priya Tomar | Shiv Nadar University, Noida | 2022 |
| 16 | Radha Lekshmi M | Centre for Economic and Social Studies, Hyderabad | 2022 |
| 17 | Ridwan Ah Sheikh | Delhi School of Economics, University of Delhi | 2022 |
| 18 | Ruchi Kumari | Indian Institute of Technology, Patna | 2022 |
| 19 | Sayoree Gooptu | Jadavpur University, Kolkata | 2022 |
| 20 | Shefali Srivastava | Govind Ballabh Pant University of Agriculture and Technology, Pantnagar | 2022 |
| 21 | Shreya Lahiri | Birla Institute of Technology and Science, Pilani, Hyderabad Campus | 2022 |
| 22 | Shubhangi Jaiswal | Shiv Nadar University, Noida | 2022 |
| 23 | Sonali Singh | Indian Institute of Management, Lucknow | 2022 |
| 24 | Suadath V | Center for Economic and Social Studies, Hyderabad | 2022 |
| 25 | Sumana Lahiri | Pandit Deendayal Energy University, Gandhinagar | 2022 |
| 26 | Syeda Rijwana Yasmin | Gauhati University, Assam | 2022 |
For any other information, please contact.
  CoRe Secretariat
Ms. Martha Lobo
Tel: (022)6909 6566
  CoRe Website
http://www.igidr.ac.in/CoRe
  CoRe E-mail
core2023@igidr.ac.in