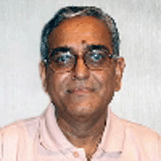 Education :
Ph D in Economics from (Centre for Development Studies, Trivandrum) Jawaharlal Nehru University, New Delhi.
Office Telephone:
+91-22-28416518
Email id:
This e-mail address is being protected from spambots. You need JavaScript enabled to view it
Research Interests:
Development Economics, Industrial development, Economic Growth and Reforms.
Click here for personal homepage
"Can Public Sector Revive the Economy? Review of Evidence and a Policy Suggestion". Economic and Political Weekly, Vol. 50, No. 5, January 31, 2015. [PDF]
"Economic Challenges to the New Government: A Policy Proposal", Economic and Political Weekly, Vol. 49, No. 21, May 24, 2014. [PDF]
"India's Dream Run, 2003-08: Understanding the Boom and its Aftermath", Economic and Political Weekly, Vol. 48, No. 20, 2013.[PDF]
"India's Economic Development", in Atul Kohli and Prerna Singh edited, Routledge Handbook of Indian Politics, Routledge, London and New York, 2013.
"Outward FDI from China and India: An Exploratory Note", in Amiya Kumar Bagchi and Anthony P D'Costa edited, Transformation and Development: The Political Economy of Transition in India and China, Oxford University Press, New Delhi, 2012.
Economic Growth, Inequality and Social Development in India – Is Inclusive Growth Possible?, edited by R Nagaraj for the United Nations Research Institute for Social Development (UNRISD), Geneva, Palgrave Macmillan, London, 2012.
"Industrial Performance, 1991-2008: A Review", in India Development Report, 2011, edited by D M Nachane, Oxford University Press, Delhi, 2011. [PDF]
"Trends and Patterns in Industrial Growth in India, 1950-2010", a paper for a volume edited on India's Industrialisation edited by C P Chandrasekhar, for ICSSR's survey of research in Economics in India, 2011.
I teach a course on "Indian Economic Development", for M Sc students during the first semester of an academic year.

Click here to view Details