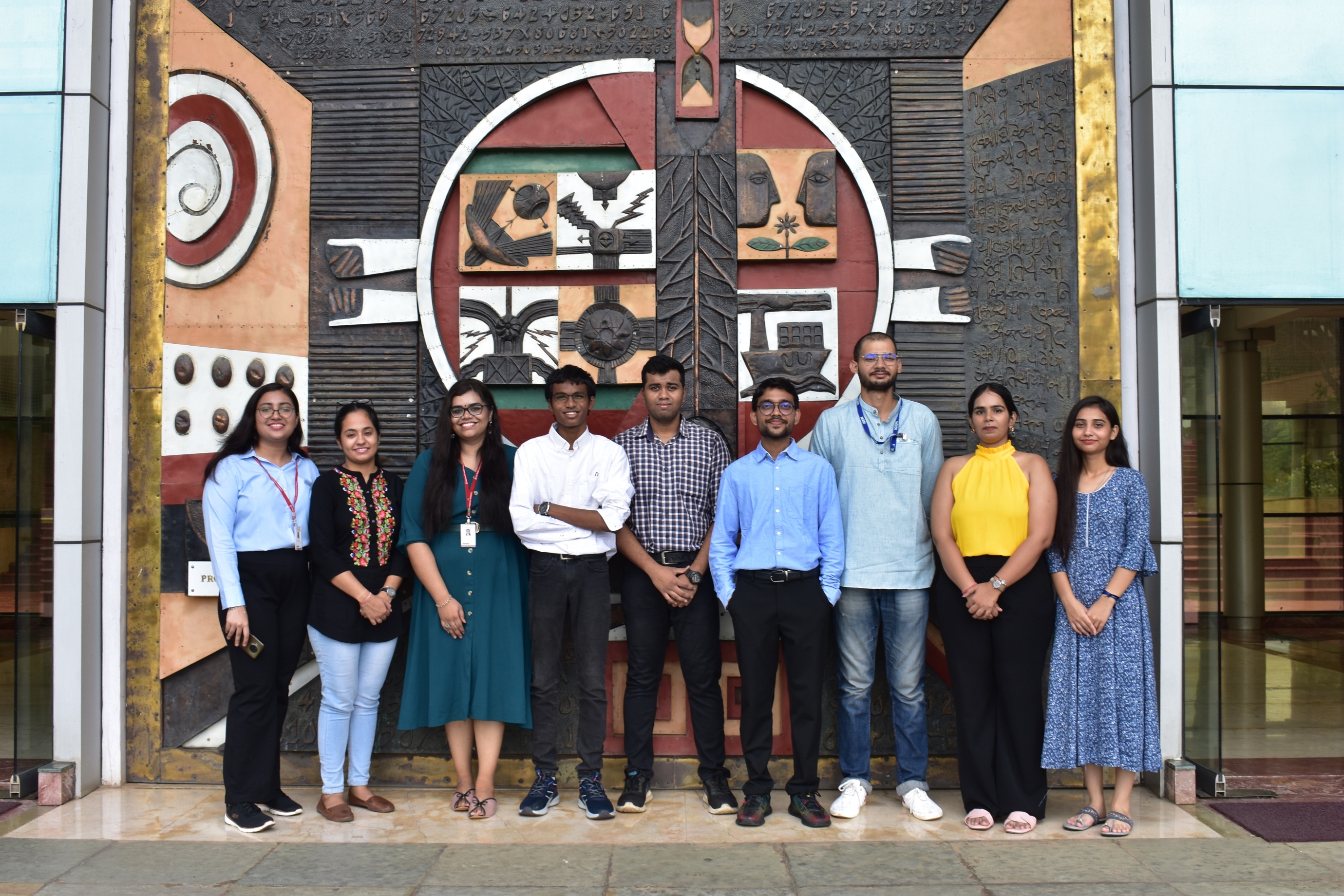 Visiting Students Program Summer 2023
Call for Applications
The IGIDR is pleased to invite applications for the Visiting Students Program for 2023. If you are a student who wants to learn what academic research is all about and would like to learn the ropes and get some hands on experience working with faculty researchers, you can now apply to spend the summer at the IGIDR. The IGIDR Visiting Students Program is part of the institute's mandate to reach out to the larger academic community, to foster interactions and nurture t6he capacity of students to undertake research.
The Program: Selected students will be assigned a faculty supervisor to work with for the duration of their visit. Students are expected to produce a report at the end of their sojourn in the IGIDR.
Eligibility: Students in the 1st year Master's program (M.A., M.B.A., M.Com., M.Sc. and M.Stat.), 3rd year engineering program (B.E, B.Tech.) or 4th year of integrated Master's Program.
Period: May 30th, 2023 to July 15th, 2023 (45 days in one stretch).
Stipend: Rs.9000/– for the entire period (May 30, 2023 to July 15, 2023), 2nd class roundtrip train fare, free accommodation (on sharing basis) on IGIDR campus.
Application: Completed application should include:
Annexure-1:
Curriculum Vitae
Annexure-2:
Document regarding Date of Birth.
Annexure-3:
Certificate related to 1st year Master's program (M.A., M.B.A., M.Com, M.Sc. and M.Stat)
OR : 3rd year Engineering program (B.E, B.Tech)
OR : 4th Year of integrated Master's program
Annexure-4:
A Statement in English (not to exceed 300 words) explaining
i) Your research interests
ii) Why you would like to be considered for this program?
iii) What do you hope to achieve during the program?
Annexure-5:
Scanned copy of Bonafide Certificate (Current)
Annexure-6:
Recommendation letter from College / Institute / University authorities.
Selection: Selection will be based on a joint evaluation of the CV, letter of recommendation and the statement of research intent submitted at the time of application. Selected applicants will be notified via email by March 27th 2023.
Application Deadline & Notification :
Applicants have to apply online  by February 25th, 2023.
Applications for Visiting Students Programme (Summer) has been closed
You need a Gmail account in order to apply.
Address for Communication :
Ms. Sayli Charatkar
Visiting Students Program 2023
Indira Gandhi Institute of Development Research (IGIDR)
Gen. A.K. Vaidya Marg, Goregaon (East),
Mumbai 400 065 (INDIA)
Email : summer@igidr.ac.in
Phone: + 91-22-69096530

| Sr. No. | Photo | Name | Name Of Institution |
| --- | --- | --- | --- |
| 1 | | Aparna P. Krishnan | Symbiosis School Of Economics, Pune |
| 2 | | Devanshi Malhotra | Ashoka University |
| 3 | | Sachin Gonsalves | St Xavier's College (Autonomous), Mumbai |
| 4 | | Mithilesh Dilip Dhok | Indian Institute Of Science Research And Education |
| 5 | | Neha Gupta | Indian Institute Of Foreign Trade, Department Of Economics |
| 6 | | Vani Tyagi | Banaras Hindu University (Vasanta College For Women) |
| 7 | | Mayank Pandey | South Asian University, Department Of International Relations |
| 8 | | Tanishka Singh | Banasthali University |
| 9 | | Shivam Maheshwari | Madras School Of Economics |
Image
Name
University Affiliation
Description
Year
Ewan Nikhil Thomas
University of Hyderabad
Learn how to research!
2019
Divya Jain
South Asian University
This program will allow me to develop and realize the theories into the modelling frameworks and emperics.
2019
Dipti Mishra
Indian Institute of Technology, Roorkee
To get exposure on research work.
2019
Chayan Poddar
Indian Institute of Technology, Guwahati
To have hands-on experience and learn more about research from the esteemed faculty and researchers at IGIDR - to formulate policiesthat help in the long run.
2019
Himani Agarwal
Jamia Millia Islamia, New Delhi
Exposure to new tools and measures and researching under emminent professors will definitely add to my skillset.
2019
Swati Chhikara
Central University of Rajasthan
I hope to achieve scientific and systematic approach of doing academic research in an inter-disciplinary setting.
2019
Baishali Lodh Chowdhury
Pondicherry University
As a student wishing to pursue a career in research and development, I believe I can utilize this opportunity to learn as much as possible from the eminent faculty at this institure.
2019
Kashish Srivastava
Indian Institute of Technology, Roorkee
A great place to fulfill your dreams.
2019
Shruti Srivastava
University of Petroleum and Energy Studies
I hope to get a broader understanding of energy sector and related issues.
2019
Sandra Surendran
Central University of Tamil Nadu
From this programme I expect to make a research base on my subject.
2019
Parishmita Das
Banaras Hindu University
This 45 days programme is the best platform to give the first step in the field of research. Through this program, I want to prepare myself for my future journey of research under the guidance of one among the best faculty of India.
2019
B.Sai Shruthi
Gokhale institute of politics and economics, Pune
I am B.Sai Shruthi, I am affiliated to Gokhale institute of politics and economics, Pune. I am looking forward to explore the research practices and learn professional research skills. I am also expecting to interact with faculty members other than my faculty supervisor and gain from the interaction.
2018
Deepanshi Gilhotra
TERI School of Advanced Studies
I am looking forward to do some good quality research work under my professor and get my paper published in a journal after some time.
2018
Gaibul Preet
University of Hyderabad
As a student mastering in Economics, I'm interested in gaining knowledge about research methodology and I hope to achieve advanced academic insights about my topic by the end of the Visiting Students Programme at IGIDR Mumbai. i believe the same will help me to achieve my future goals.
2018
Meera Ancy Vincent
Pondicherry University
From this internship program I expect that I will get good at econometrics and data analysis using STATA and R. I hope this program will enhance my conceptual and analytical reasoning power and there by my research skills.
2018
Nidhi Gyan Pandey
Ambedkar University Delhi
By the end of the programme, I hope to learn some new research skills, and sharpen my understanding of the practical applications of research methodologies in Economics and their associated challenges.
2018
Rumi Azim
Centre for Development Studies, Kerala
It is a great opportunity to be a part of Visiting Students Programme at IGIDR. I look forward to enhancing my statistical and analytical skills in order to become a good researcher.
2018
Sugam Sharma
Shri Mata Vaishno Devi University, Katra
This programme will help me to learn the new econometric tools for the research paper. I am really looking forward to learn new things through this programme and I hope this will be the best 45 days of my student life in IGIDR.
2018
Vipul Gupta
Gokhale Institute of Politics and Economics, Pune
I expect a good learning experience and exposure to economic research.
2018
Tulika Gupta
Shri Mata Vaishno Devi University, Katra
I expect a lot from VSP, its my first experience with the external
faculty, so i am ready to learn new things regarding my interest, the
facilities here are going to help me
2018