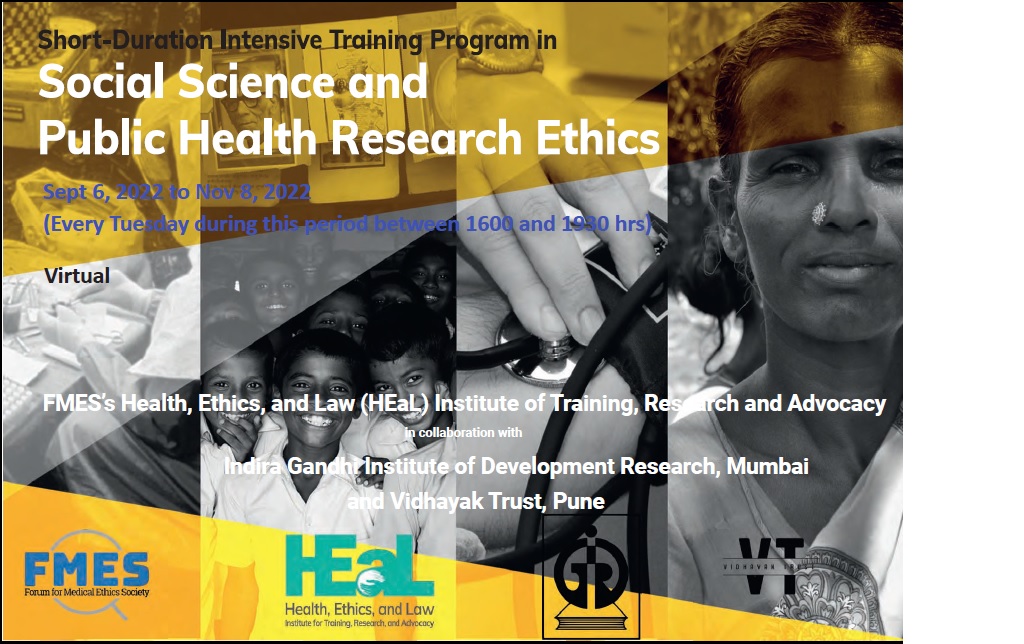 Health, Ethics, and Law (HEaL) Institute for Training, Research and Advocacy; and Forum for Medical Ethics Society (FMES), Mumbai, Indira Gandhi Institute of Development Research (IGIDR), Mumbai and  Vidhayak Trust, Pune – are pleased to announce the flagship 'Short-Duration Intensive Training Program in Social Science and Public Health Research Ethics' on Tuesday between September 6, 2022, and Nov 08, 2022, (Every Tuesday during this period between 1600 and 1930 hrs on a at virtual platform.). Please note that all sessions will be live ones steered by experts allowing direct interactions between course participants and the faculty and course directors. These are not pre-recorded sessions.
Important dates:
Closing date for receipt of application forms: Monday, August 15, 2022
Selection notification to applicants: Thursday, August 25, 2022
Training program: Tuesdays between September 6 and Nov 08, 2022
About the course: The course curriculum has a legacy of 15 years to which a number of scholars including those trained in bioethics have contributed. Over time they developed research ethics case studies from the Indian context. These serve as one of the key resources for the course.  Because these are live sessions (and not pre-recorded), content of each session is carefully curated to cover contemporary issues and ethical dilemmas building on the most recent scholarship in the concerned thematics.
The course aims to equip course participants with knowledge and skills in research ethics. They would serve on significant human resources to take the learnings to their own ecosystem and facilitate knowledge transfer in research ethics.
This ethics training would help to develop an ability to use moral judgment. This training is aimed at enabling public health students and researchers; and public health practitioners to apply public health ethics frameworks and principles to reason out new, difficult, or ambiguous cases/situations/scenarios toward resolving the issue at hand in morally discerning ways.
Please find the program brochure and flyer for your ready reference. Watch out for the space on FMES's HEaL Institute website (https://fmesinstitute.org/) for updates such as session faculty, and additional webinars on special themes.
For any further questions or clarification, please write to  fmescentre.events@gmail.com or
call on Mob.: 7506265856
Warm Greetings,
Dr Sunita Sheel, Director, HEaL Institute, Mumbai
Prof Srijit Mishra, Indira Gandhi Institute of Development Research(IGIDR), Mumbai